Swim England monthly updates 2021
12 March 2021
Welcome to the 2021 monthly updates from Swim England.
This will cover the month-by-month work of Swim England between 1 January and 31 December 2021.

Swim England Board
The Swim England Board meets around six times a year and is made up of representatives from across the sport and physical activity sector. Members have background in legal, human resources and finance.
The Swim England Board members are:
Sue Smith, Caroline Green, Sarah Gregory, Bernard Simkins, Alison Breadon, David Flack, Neil Booth, Joan Wheeler, Jane Nickerson, Brian Havill, Aysha Kidwai and Raj Kumar.
January
The year began with high hopes for the rearranged Olympic Games – but focus soon turned on the fight to reopen pools as the country was plunged into a third national lockdown.
Artistic swimming duet Kate Shortman and Isabelle Thorpe said they were 'raring to go' as they aimed to show they belong among the best in their discipline by qualifying for the Tokyo 2020 Olympics.
However, only days after the hopeful duet had spoken about their desire to make an impact on the biggest stage in the world, Prime Minister Boris Johnson announced tougher sanctions to curb the spread of coronavirus, forcing the closure of pools for the third time in the space of nine months.
Chief executive Jane Nickerson insisted swimming pools must be included in the list of facilities allowed to open at the 'earliest available opportunity', adding it was 'very upsetting that are we faced with this extremely distressing situation once again'.
Mr Johnson's announcement came on the same day that a new 'exciting identity' for the Swim England National Performance Squad was launched ahead of the Birmingham 2022 Commonwealth Games.
The aim was to cultivate an England Swimming Team identity ahead of what promises to be a 'exhilarating experience' of a home Games.
A total of 85 swimmers were named in the first-ever England Swimming Team, which aimed to bring together everyone who would be considered for selection for Team England at the Commonwealth Games.
With pools closed, Swim England reiterated its advice on swimming safely in open water, especially as a cold snap swept the UK.
Jane stressed the importance of 'critical' membership income due to Swim England being a registered charity and not-for-profit organisation, while members shared the reasons why they had already renewed.
Popular Lockdown Live sessions for the diving community held during the second national lockdown returned again while the nation was being told to stay at home.
Swimmers who had taken part in the first Level X Racing series discovered where they had finished as the leaderboards were published.
More than 16,200 swimmers from 430 clubs had taken part in the opening event between 23 October and the end of December.
Two Technical Officials chosen by FINA to officiate at the Tokyo 2020 Olympics discovered they would be heading to Japan for the rearranged Games.
Helen Akers and Craig Hunter received confirmation they would still get the chance to accomplish the 'once-in-a-lifetime opportunity in August.
Meanwhile. starters Gerry Metcalf and Matt Huntington and referees Jackie Beard Jones, Stewart Murray and Durno Jessiman began a four-year term on FINA's Swimming Officials list.
Swim England gave its backing to an MP's campaign to improve the water quality of the country's rivers and inland waterways.
MP Philip Dunne's 'Sewage (Inland Waters) Bill' places a duty on water companies to ensure that untreated sewage is not discharged into rivers and other inland waters.
Days later, Swim England and the #EndSewagePollution coalition welcomed a Government announcement which said water companies must make real-time data on sewage discharges available at bathing sites all year round.
The health benefits of aquatic activity were highlighted as part of the campaign to #OpenOurPools.
Leading health experts have warned that the continued closures of swimming pools are 'building up health problems for the future', while Ben Wilkins, the CEO of Good Boost, insisted swimming pools were a 'lifeline' for people with numerous joint, mobility and disabilities to stay active and keep moving – and must 'urgently' reopen as soon as possible.
Independent charity The Swimming Trust, in partnership with Swim England, offered £500 to five different state schools in a bid to help unearth the next generation of water polo players.
Swimming's Mel Marshall and diving's Jane Figueiredo were named as part of UK Sport's new female coaches leadership programme.
As the month drew to a close, Swim England stressed that any new National Plan for Sport and Recreation must include providing the swimming pools the country needs as a priority.
Swim England raised the importance of the Government investing enough money to ensure the country had enough swimming pools to support swimming, diving, water polo and artistic swimming clubs to have access to the water.
February
Dates for free Team Manager 2 courses were unveiled as Swim England staged three workshops offering additional training for volunteers and help ensure clubs are ready to go once we are back in the water again.
Swim England also offered its affiliated clubs top tips on how to become strong and sustainable organisations at an Interactive Financial Sustainability webinar.
Sports minister Nigel Huddleston has confirmed to Swim England that the reopening of facilities as soon as it is safe to do so is a priority – as they are a 'powerful defence' against the coronavirus pandemic.
A £10 million investment to support school sports and swimming facilities was welcomed by Swim England.
The cash would build on existing funding to help schools open their facilities outside of school hours, and encourage pupils to be more physically active.
A new report revealed two-thirds of outdoor swimmers say the activity is essential or very important to their mental health.
Outdoor Swimmer Magazine's Trends in Outdoor Swimming report has also revealed that the number of participants taking part in the activity grew by around 1.5 to three times in 2020.
A host of swimming stars would inspire the next generation at Swim England's new Sharing Success series.
Olympic medallists Rebecca Adlington, Siobhan-Marie O'Connor and James Guy were those taking part in the workshops, which were being delivered by Swim England's Swimming Talent Team and would focus on the technical, tactical, and physical elements of each stroke.
Swim England called on the Government to deliver on its promise to prioritise the reopening of leisure facilities – so people can swap pills for pools to help manage a range of debilitating health conditions.
The Swim England Water Polo Leadership Group revealed 'a lot of good work' had already been achieved on its five-year vision for the future of the sport, despite the constraints faced because of the coronavirus pandemic.
Olympic and Paralympic swimmers and divers were among dozens calling for pools to be given 'the fullest possible support to survive and recover from the economic crisis caused by Covid-19'.
Sharron Davies, Steve Parry, Jack Laugher, Alice Tai and Kerri-anne Payne are all signatories on a letter to Prime Minister Boris Johnson.
Meanwhile Swim England chief executive Jane Nickerson issued an impassioned plea to Mr Johnson calling on him not to push pools and leisure centres to the back of the queue again as he prepared to announce his roadmap out of the national lockdown.
It was a view shared by Catherine West MP, the chair of the All Party Parliamentary Group for Swimming, who said that pools should be at the heart of the post lockdown recovery.
Mel Marshall offered words of wisdom to young swimmers who feared they may have missed their chance to shine due to continued lockdowns preventing them from competing.
The Loughborough National Centre head coach, who also hailed the importance of clubs, said: "Swimming is like riding a bike – it's still in there."
Swimathon Foundation president Duncan Goodhew praised the work of club volunteers, calling them the unsung heroes of the sport.
Jane said that 'multi-functional pools must reopen to help reduce the risk of unnecessary deaths' as there was a fear people would miss out on life-saving swimming lessons which could lead to tragic consequences.
In another plea to Mr Johnson the day before his roadmap announcement, Jane insisted pools had 'to be among the first sectors to reopen as we have robust, scientific evidence to prove they are safe'.
Twenty-four hours later, the Government revealed outdoor pools would reopen on Monday 29 March, with indoor pools on Monday 12 April.
However the announcement was tinged with despair as over 18s would have to wait until Monday 17 May before being allowed to train with their clubs.
At a meeting of the DCMS Sport Working Group, chaired by the Minister for Sport, Jane raised the situation facing Swim England's over 18 club swimmers, divers, water polo players and artistic swimmers and urged them to keep this situation under review.
Swim England raised the importance of clean water to safeguard the health of the many people who enjoy swimming outdoors, at a parliamentary inquiry.
It was announced that the Sandwell Aquatics Centre was set to be the busiest venue at the Birmingham 2022 Commonwealth Games with action on all 11 days of the competition and 66 medals up for grabs.
The winners of the first-ever Swim England Level X Artistic Swimming virtual land games were revealed during a Facebook live broadcast.
March
Olympian Craig Figes was appointed to the Swim England Water Polo Leadership Group at the beginning of March.
The captain of the Great Britain men's water polo team at the London 2012 Olympic Games took on the role of coaching representative after Sean King had to stand down due to increased work commitments.
Swim England welcomed a pioneering research project being carried out by the Black Swimming Association (BSA) which was announced on the organisation's first anniversary.
The research is part of the BSA's three-year strategic plan and core mission to ensure people from African, Caribbean and Asian communities have an accessible, inclusive and safe experience in and around water.
Tom Baster, the chairman of the Swim England Swimming Leadership Group, said the Prime Minister's roadmap out of lockdown announcement 'provided us with the clearest indication in more than a year that competition will return before the end of the swimming season'.
Olympic gold medallist Jack Laugher reflected on this earliest diving memories and said joining a club was 'was one of the best decisions of my entire life'.
He hailed his hometown club, Harrogate, saying: "It was the drive and the determination and the passion of the coaches that really propelled me to where I am now."
An interactive week of workshops run by Swim England's DISE and Talent Teams was deemed 'challenging, fun, and enjoyable' by the athletes who took part.
The sessions included yoga and mindfulness sessions, live cook alongs, HIIT workouts, quizzes, mental wellbeing and Q&A's with elite athletes.
As youngsters returned to the classroom as the third national lockdown started to ease, Olympian Steve Parry called on primary schools 'not to forget life-saving swimming lessons'.
He said: "I appreciate swimming lessons aren't simply going to return on day one of being back in school. However, schools shouldn't simply stop or cut back on swimming lessons. There is plenty of time remaining in this academic year so there should be no excuses not to run swimming lessons."
Swim England extended its popular Lockdown Live diving sessions until 1 April due to high demand.
Level X Water Polo was launched by Swim England with under 18s registered as category two members able to take part when indoor pools reopened from Monday 12 April as part of the route back to competition.
Return to competition plans were also confirmed for diving and artistic swimming.
Swim England chief executive Jane Nickerson praised a NSPCC campaign for helping to protect 16 and 17-year-olds, with the Government set to close a loophole in the law.
The West Midlands Diving Strategy was officially launched by Swim England.
It has been created as part of a legacy project around the 2022 Commonwealth Games and the £73 million Sandwell Aquatics Centre, which aims to offer a platform to promote the sport in the region.
A new qualification structure for water polo referees was agreed by the Swim England Water Polo Leadership Group.
Luke Greenbank shattered a 10-year British record after clocking 1:55.34 in the Men's 200m Backstroke at the British Swimming Invitation Meet, while Ellie Challis also set a new British best in the Women's S3 100m Freestyle.
Tickets went on sale for the inaugural Swim England Foundation Coach Conference 2021.
The proposed event schedule for senior and age group British and Home Nations water polo teams was described as a 'very positive step' for the sport.
It featured a list of domestic and international water polo competitions that the respective teams will look to contest during the remainder of 2021 and throughout 2022.
Swim England announced it was freezing the price of its Learn to Swim awards and resources – for the first time since 2015.
The winners of Swim England's inaugural Level X Diving Dryland Games were revealed during a live stream on Facebook.
More than 250 entrants took part in the competition which required them to film a series of dryland diving drills to then be scored by a panel of judges.
On the first anniversary of pools being forced to close to help combat the spread of coronavirus, the dedicated effort of operators and facility owners to get them reopened was praised.
Swim England's head of business engagement Alex Hains said: "Millions will go swimming again – but few will know how much effort the people behind the scenes put in to make that happen."
Chief executive Jane Nickerson expressed her frustration and disappointment after the Government confirmed it would not reverse the decision on over 18s training with clubs when indoor pools reopen.
A series of free webinars focusing on outdoor swimming were launched.
They aimed to inspire and engage those who are interested in finding out more about swimming outdoors or returning to the activity.
A new £5 million fund to help community-run leisure facilities recover and reopen following the coronavirus lockdown was welcomed by Swim England.
Thousands of swimmers were set to embrace the great outdoor pools and open water venues as they prepared to reopen.
Jane expressed her delight that facilities were set to welcome the return of swimmers from Monday 29 March saying: "It's been a long time coming."
As open water venues reopened, Swim England, RLSS UK and British Triathlon stressed the importance of being outdoor swimming savvy in a bid to prevent 'avoidable tragedies'.
It was confirmed that artistic swimming and water polo would benefit from UK Sport investment over the next four years.
The two aquatics disciplines would receive £216,250 (artistic swimming) and £375,000 (water polo) respectively over four years.
Swim England's Continuous Professional Development Programmes (CPDs) for safeguarding training were endorsed by CIMSPA.
April
Swim England launched the second series of the Level X Diving Dryland Games at the beginning of April.
The new National Diving Officials Judge Level 1 Course was described as 'interesting and informative' by Olympian, Freddie Woodward.
Chief executive Jane Nickerson warned of the 'unacceptable risk' on the health of open water swimmers after data released by the Environment Agency showed water companies discharged raw sewage into rivers and coastal waters in England more than 400,000 times last year.
Prime Minister Boris Johnson announced that indoor pools could reopen from Monday 12 April – which Jane said would be a 'welcome relief' to millions of people.
Swim England's affiliated clubs were being encouraged to complete a Return to Water survey so the recognised national governing body could get a better understanding of how how they were coping with the challenges of the coronavirus pandemic.
Plans for a summer 'Festival of Swimming' were unveiled by British Swimming and the home nations as part of the route back to competition – while Swim England confirmed it would begin reissuing for level four single club events as it released its Return to Competition guidance.
The Level X concept was being expanded to the water polo community with category two members getting the chance represent their clubs and compete against others in a virtual series.
The second series of Level X Racing was also launched ahead of indoor pools reopening.
Swim England sent its deepest condolences to the Royal Family following the death of the Duke of Edinburgh, Prince Philip.
A new study jointly commissioned by Swim England proved that swimming pool water could inactivate the Covid-19 virus in only 30 seconds.
Research by virologists at Imperial College London showed that the virus ;could not survive and was no longer infectious' when it was mixed with swimming pool water.
Jane again raised the issue of over 18 members being allowed to train with their clubs and of a looming facilities crisis when she appeared before a group of MPs, who were discussing sport in our communities.
A new Working Together toolkit issued by Swim England would act as a 'valuable asset' and help build new relationships, and build on existing ones, between  clubs and operators.
Jane told a parliamentary inquiry that remedies to help improve water quality were needed so there were more safe places for swimmers to experience the health benefits of outdoor swimming.
Days later, Swim England launched its Open Water Pledge, which called for cleaner waters, better access and increased safety for open water swimmers.
An 'exceptionally high-quality' swimming team was named for the rearranged Tokyo 2020 Olympic Games.
A total of 20 English swimmers were included in the 28-strong team heading for Japan for the Games, which take place from Friday 23 July to Sunday 8 August, with nine days of swimming action beginning on Saturday 24 July.
Swim England advertised for an 'inclusive and inspirational leader' to become its new chairperson. 
New statistics released by Sport England showed swimming participation was on the rise before the coronavirus pandemic struck.
Its Active Lives survey showed around four million people were swimming at least twice in the space of 28 days between mid-January and mid-March 2020 – 200,000 more compared with the previous 12 months.
Swim England supported a social media blackout to show a commitment to ensure aquatic sports remain inclusive and welcoming..
No posts were published on its social media channels between 3pm on Friday 30 April and 23.59 on Monday 3 May as part of a campaign against online hate and discrimination
May
Swimmer Max Litchfield hailed the Swim England pledge to help clean up open water.
He signed the pledge and called it an 'amazing campaign' that he was 'happy to get behind'.
It was revealed that two million youngsters missed out on the chance to go swimming due to the coronavirus pandemic – resulting in almost a quarter of a million children being unable to swim the length of a standard swimming pool.
Swim England had joined forces with nine swimming pool operators up and down the country to urge parents and guardians to ensure children return to 'safe and secure' swimming lessons as part of its latest #LoveSwimming campaign.
As part of National Deaf Awareness Week, a number of Swim England tutors and teachers said breaking down barriers was their focus to help both young and old people learning to swim while deaf or hard of hearing.
Swim England supported a brand new initiative to offer something for every member of the open water swimming community.
Beyond Swim has been created by Triathlon England and provides accreditation for venues ensuring they have met the highest standards of safety and professionalism – and offers swimmers discounts and incentivises activity.
Delighted Swim England chief executive Jane Nickerson has praised the patience of over 18 members after they were given the green light to return to club training sessions next week.
More than one million children could leave primary school in the next five years unable to swim the minimum standards required under the national curriculum, according to worrying new predictions.
The startling figures have been published by the All-Party Parliamentary Group for Swimming and recognised national governing body Swim England, who are warning of a 'lost generation' of swimmers unless action is taken to halt the projected decline.
Two new members were appointed to the Swim England board.
Aysha Kidwai and Raj Kumar will bring a 'wealth of experience' to the national governing body and are keen to ensure people from all backgrounds are experiencing the joys of aquatic activity as soon as possible.
Swim England was on of 50 organisations jointly campaigning for people to #RespectTheWater after new statistics revealed the number of drowning deaths increased last year.
The winners of the second series of the Level X Diving Dryland Games were announced – with the competition being hailed as a great success.
Diver Leon Taylor explained the key reason why he is urging parents and guardians to ensure children return to 'safe and secure' swimming lessons as part of the latest #LoveSwimming campaign.
An innovative project to help develop aquatics businesses – and increase the opportunities for people to go swimming – was launched by Swim England.
The recognised national governing body's Business Solutions initiative aims to incorporate industry leading insight, experience and best practise knowledge to help leisure providers create sustainable solutions to aquatic business development.
Swim England has welcomed additional measures being introduced by the Government to help tackle water pollution in the country's rivers.
The Government reiterated its commitment to amending the Environment Bill with a particular focus on storm overflows and sewage pollution.
Jane explainedwhy the battle to secure long-term financial support for cherished facilities goes on.
Her rallying cry came as a worrying report from the District Councils' Network, which represents local authorities, revealed that one in three councils expect to be forced to close leisure centres forever.
June
The beginning of June saw the launch of the Swim England National Awards 2021.
Members of the aquatics community will be celebrated for their devotion to our sports at a virtual live ceremony which takes place on Saturday 9 October.
Swim England supported the relaunch of Pride in Water to coincide with the start of Pride Month.
Swim England was 'thrilled' to be officially launching Level X Diving, which will see divers from across the country returning to competition from the comfort of their home pools.
Teenager Andrea Spendolini-Sirieix was named in the Great Britain diving team which would be heading to the Tokyo 2020 Olympic Games.
She was one of 10 English divers selected in the 12-strong team for the rearranged Games at the end of July.
Cambridge Dive Team President Sharyn Bord has said she was 'surprised and amazed' after being named winner of the Swim England Harold Fern Award.
And Nova Centurion Swimming Club chairperson Josie Grange revealed she was 'taken aback' after receiving the news that she was the Swim England Alfred H Turner Award winner.
The duo were announced as winners to coincide with National Volunteers Week.
Swim England regions confirmed the dates and venues for the Festival of Swimming.
The aim of the festival is to give as many youngsters as possible the opportunity to return to racing.
The Minister for Sport, Nigel Huddleston, said there had been 'fantastic progress' in the construction of the Sandwell Aquatics Centre as the first of 190,000 tiles at the Birmingham 2022 Commonwealth Games venue were laid.
Chief executive Jane Nickerson welcomed 'constructive' discussions following a roundtable meeting to discuss the issue of school sport, school swimming and water safety.
Jane also told a House of Lords Select Committee that any National Plan for Sport must have investment in facilities at its very heart.
The Queen's Birthday Honours list saw Jane awarded an MBE for services to swimming during the Covid-19 pandemic, while Mel Marshall received the same accolade for services to swimming and charity.
Artistic swimming duet Kate Shortman and Isbaelle Thorpe successfully booked their place at the Tokyo 2020 Olympic Games following the qualification event in Barcelona.
A new health fact sheet focusing on the benefits of swimming as part of a Covid-19 recovery plan was published by Swim England.
The full swimming and diving for the Birmingham 2022 Commonwealth Games was unveiled.
Jane reiterated calls for a second wave of the National Leisure Recovery Fund as it was announced the easing of lockdown restrictions would be delayed.
She said the announcement by Prime Minister Boris Johnson needed to go 'hand-in-hand' with more financial support for pools to help them 'recover and survive'. 
Olympian Sarah Barrow, the lead officer on the West Midlands Diving Strategy, gave an update on the project and said it was pleasing to see things moving in the right direction.
The Government confirmed that the PE and School Sport Premium funding will continue at £320 million for the next academic year – with Jane hoping schools would use it to improve their school swimming and water safety offering to pupils.
The first Swim England open water ambassadors were named to aid the fight for cleaner waters, better access and increased safety for open water swimmers.
Swim England backed the Royal Life Saving Society UK's Drowning Prevention Week, which aimed to encourage parents to ensure their children are taught how to stay safe and enjoy water safely this summer.
Thousands of free water safety sessions for youngsters were available to book as the popular Swim Safe programme – created by Swim England and the RNLI – returned to venues across the country.
Alice Dearing and Hector Pardoe both sealed a place in Team GB's marathon swimming squad for the Olympic Games – with Jane hailing the inspirational role of Dearing, who will become the first black female swimmer to represent Britain at the Olympics.
A campaign to use the Olympic Games to inspire the next generation to take up aquatic sports was launched by Swim England, British Swimming, Scottish Swimming and Swim Wales.
Meanwhile, Swim England announced a new partnership with Taylors of Harrogate which would give its members the chance to bag some exclusive coffee prizes.
Paralympic champion Ellie Simmonds said it was a 'magical feeling' after being named in a 23-strong swimming squad heading to Tokyo this summer.
July
Ten schools across the country were awarded funding from the Swimming Trust in an effort to introduce more youngsters to water polo.
The initiative was part of the Swim England Water Polo strategic goal of doubling the number of registered players in the next five years. 
The countdown to the rearranged Tokyo 2020 Olympic Games was well underway with several aquatic athletes sharing their experiences of how their clubs had shaped their journey.
Alicia Wilson thanked her coaches for helping to make her Olympic dream come true, while Brodie Williams hailed his club for laying the foundations to build an Olympian.
Great Britain's young artistic swimmers set a number of personal bests as they put on promising performances against tough competition at the LEN European Junior Championships.
The mixed duet of Rosie Rallings and Ranjuo Tomblin impressed on their international debuts as they claimed fifth place in an experienced field in Malta.
Manchester were crowned the inaugural winners of the Women's British Water Polo Festival.
The event also saw Cheltenham's men claim the British Water Polo Championships title after defeating Invicta.
Swim England warned a nationwide shortage of 8,000 swimming teachers is preventing more than half a million youngsters from learning a vital life skill.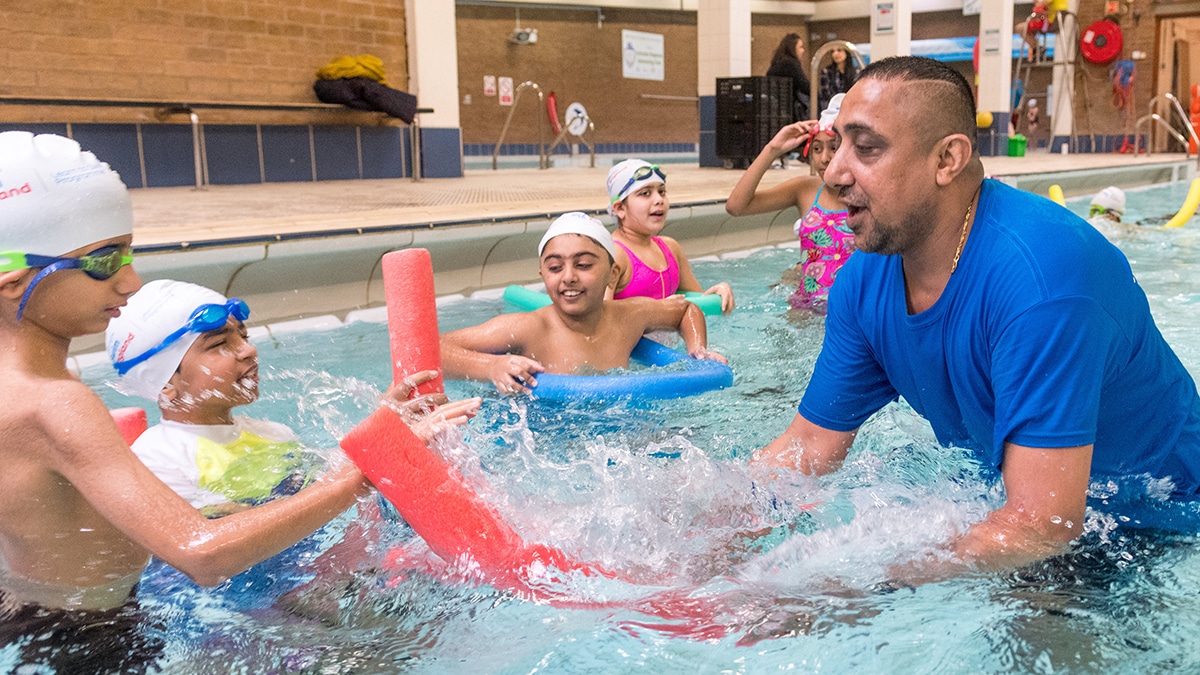 The lack of teachers was blamed on the coronavirus lockdowns when pools were closed and staff went in search of alternative employment or simply retired.
The nomination policy for the Birmingham 2022 Commonwealth Games was released ahead of what is set to be 'an exciting and inspiring' home games.
Britain's youngsters took home 12 medals after an impressive display at the European Junior Championships in Rome.
Swim England announced it was aiming to stage a number of national events in 2021 as the coronavirus lockdown restrictions were being officially lifted.
It had also updated its coronavirus frequently asked questions page to cover the most commonly-raised queries being asked.
People were being urged to be wary of the 'hidden dangers of inviting water' as the country basked in soaring temperatures.
Following a number of fatalities, Swim England was reiterating its safety advice to ensure more families don't have to suffer the heartbreaking consequences of losing a loved one to drowning.
A new chairperson was appointed by Swim England.
Richard Hookway, a former board member of Centrica and chief executive of Centrica Business, will officially begin a four-year term in the role on Wednesday 1 September.
Northampton swimmers Zara Mullooly and William Perry were set to make their Paralympics bow after being added to the squad for the Tokyo 2020 Games.
Olympian Steve Parry believed Team GB's fantastic blend of experienced swimmers and fearless younger talent can deliver 'explosive performances' at the Tokyo 2020 Olympic Games.
On the eve of the Olympic Games starting, Isabelle Thorpe said it was amazing to be considered as a role model for the next generation of artistic swimmers – and hopes her Tokyo adventure will encourage more youngsters to stay in the sport as they grow up.
Swim England's Talent Pathway Selection Policy for the 2021-22 season was released and would see 'positivity, fairness and inclusion' being championed across the programme.
An exciting and long-awaited return to racing was on the horizon for thousands of swimmers across the country as they prepared to race in the inaugural Festival of Swimming.
The rearranged Tokyo 2020 Olympics got underway – and it proved to be the most successful for a British Swimming team in the history of he Games.
During the first week of the event, Team GB's swimmers won four golds, three silvers and one bronze – their biggest medal haul ever.
It included a history-making performance from Adam Peaty as he became the first British swimmer to retain an Olympic title, while the Mixed Medley Relay team set a new world record in the first-ever Olympic final in that event.
Tom Daley and Matty Lee also added to the medal haul with gold in the Men's 10m Synchro.